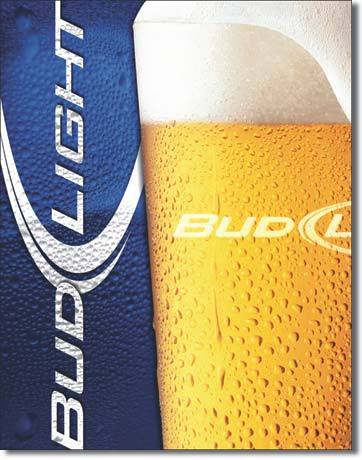 Budweiser - Bud Light
Bud Light's light-bodied brew comes with a fresh and subtle hop aroma, delicate malt sweetness and crisp finish for the ultimate refreshment. It starts with a blend of premium hop varieties, both American-grown and imported, and a combination of barley malts and rice. Bud Light's crisp, clean, refreshing taste and award winning advertising has made it the most popular beer brand in the US.
Millercoors - Coors Light
Coors Light, the World's Most Refreshing Beer, is the second best-selling beer in the U.S. Coors Light's unique frost-brewing process locks in a taste as cold as the Rockies. It has been a favorite in delivering the ultimate in cold refreshment ever since it launched in 1978.
Tuckerman Brewing Company - Pale Ale
Our flagship Pale Ale, released in 1998, is brewed with specialty malts, some grown in Maine, and four types of hops. After fermentation, it is cold conditioned and dry-hopped in lagering tanks for maximum taste and quality. It is naturally carbonated in the bottle or keg using a German process called "krausening", where a small amount of fresh fermenting wort is added. This produces a delicate carbonation and superior flavor. From the Mash Tun to store shelves is a 30 day process.
603 IPA
White Peaks IPA is a tribute to the White Mountains of New Hampshire which has 48 peaks above 4000′ elevation. White Peaks is light bodied and crisp featuring predominantly American "C hops". Using mostly late boil addition hops and dry hopped with Cascade, this IPA is dominated by citrus and floral notes with a hint of white pepper and a lively carbonation.
Smuttynose Brewing - Finestkind IPA
The citrusy hop flavor coming from a mixture of Simcoe and Santiams is pleasantly balanced by a smooth bitterness from the Amarillo hops. The beer itself is light bodied and crisp with a golden color that will throw a slight haze, as we bottle it unfiltered. At 75 IBU's, this is definitely not a training-wheels IPA, but is meant for hop lovers looking to satisfy their craving in a way that's not easy to find. We think they'll be quite pleased.
Moat Mountain Czech Pilsner
A European-style pilsner. Dry hopping produces a bouquet of aromas from the addition of traditional noble hops. This beer has a bigger malt profile than the average American Pilsner. It has medium hop bitterness and a clean floral finish
Woodstock Inn Brewery - Pig's Ear Brown Ale
Pigs Ear Brown Ale won Grand National Champion for brown ales at the United States Beer Tasting Championships in 2004 and 2006. Medium bodied with a balance of roasted and crystal malts creating a hearty nutty flavor. Medium bitterness with a slightly sweet finish.
Samuel Adams - Seasonal
When Jim Koch left his corporate job to start a brewery, people told him he was crazy. But after tasting that first batch of Samuel Adams Boston Lager in his kitchen, he knew he had something that just might prove his doubters wrong. Samuel Adams Seasonal Brews are a wonderful to enjoy in every season.
Blue Moon Brewing Company - Belgian White
Our brewmaster, Keith Villa, wanted a beer inspired by the flavorful Belgian Wits he enjoyed while studying brewing in Belgium. He brewed his interpretation using Valencia orange peel versus the traditional tart Curaçao orange peel, for a subtle sweetness. Then he added oats and wheat to create a smooth, creamy finish that's inviting to the palate. As a final touch, he garnished the beer with an orange slice to heighten the citrus aroma and taste. Its natural unfiltered appearance adds to the depth of flavors in Belgian White*.
Guinness - Draught
Swirling clouds tumble as the storm begins to calm, settle, breathe in the moment, then break through the smooth, light head to the bittersweet reward. Unmistakeably GUINNESS® beer, stout, or draught, from the first velvet sip to the last, lingering drop. And every deep-dark satisfying mouthful in between.
Budweiser
Miller Light
Michelob Ultra
Corona
Corona Light
Sam Adams Boston Lager
Heineken
Stella Artois
Twisted Tea
Harpoon Rec League IPA Lite
Switchback Amber
Truly Wild Berry Seltzer
Angry Orchard Crisp Apple
Sam's Just Haze IPA (N/A)
Gift Certificates Are Available
We Happily Accept: